Greetings from GLC Kozhikode.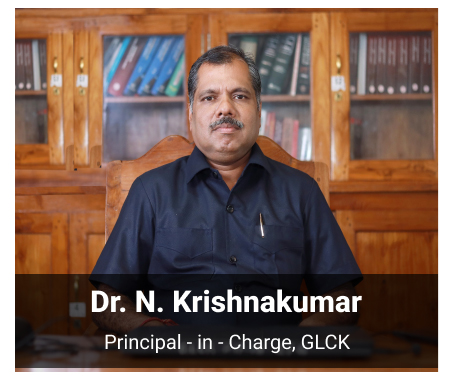 Each outgoing batch of GLCK represents not only what they have achieved individually and collectively, but also brings to fruition the vision of this institution, driven by integrity and innovation. Our constant pursuit to accomplish the pinnacle of excellence in legal education is backed by contemporary pedagogical approaches and advocacy skills well suited to chisel the brightest of minds.
Vision driven and robust in commitment, the placement cell of GLCK has strived to achieve value-based and holistic-oriented professionals, facilitated by the commitment of our exceptional faculty recognized for teaching, research and service.
Upholding the university motto "prosperity will be generated through pure actions" we have inculcated a competent and quality-driven batch of graduates, evident from our legacy of well-established alumni in public and private sectors across the world. Integrity, innovation and ambition are the core values of this fine institution, that has been giving rise to well-equipped professionals, ready to tackle the emerging challenges in the field of law.
List of Principals
1. Sri M. Krishnan Nair, M.A., M.L., LL.M.
22 – 10 – 1970 to 20 – 04 -1973
2. Sri K. Sreekantan, B. Sc., M.L
2-4-1973 to 25-5-1973
3. Sri M. Purushothaman M. A., M. L
21-7-1973 to 1-3-1974
4. Sri K. Sreekantan, B. Sc., M.L
1-3-1974 to 31-3-1979
5. Sri Jose T. Manjooran, B. A., M. L
7-5-1979 to 2-9-1981
6. Sri P. Sreedharan Nair, M. A., M. L
19-11-1981 to 31-3-1987
7. Sri K. Subrahmania Pillay M. A., M. L
16-7-1987 to 11-5-1990
8. Sri R. Vijayakrishnan B. A., M. L
11-5-1990 to 14-9-1992
9. Smt. V. L. Charlotte, B. Sc., LL. M
16-9-1992 to 29-6-1993
10. Sri K. Kunjukutty, B.Sc., LL. M
21-6-1993 to 1-9-1993
11. Smt. V. L. Charlotte, B. Sc., LL. M
2-9-1993 to 7-12-1994
12. Sri A. Sathyaseelan, B. Sc., LL. M
12-1994 to 15-12-1994
13. Sri M. Ramakrishnan, B. Sc., M. L
16-12-1994 to 31-5-1995
14. Sri A. Sathyaseelan, B. Sc., LL. M
1-6-1995 to 11-6-1995
15. Dr. V. Kesavankutty, B. Sc., LL. M., Ph. D
12-6-1995 to 30-3-1996
16. Sri A. Sathyaseelan, B. Sc., LL. M (Lecturer-in-charge)
30-3-1996 to 8-7-1996
17. Smt. P. J. Grace, B. A., M. L
8-7-1996 to 23-4-1997
18. Sri D. M. Balakrishna Prabhu, B. Sc., M. L
2-5-1997 to 31-3-1998
19. Sri A. Sathyaseelan, B. Sc., LL. M
1-4-1998 to 2-6-2003
20. Smt. A. Radha G. Nair, B. Sc., (Spl.) LL. M
3-6-2003 to 31-3-2007
21. Sri M. C. Valsan, B. Sc., LL. M., Ph. D
4-4-2007 to 31-5-2007
22. Smt. K. Padmaja, B. A., LL. M. Ph. D.
(Selection Grade Lecturer-in-charge of principal)
1-6-2007 to 21-6-2007
23. Smt. S. S. Salini, B. Sc., LL. M., Ph. D
22-6-2007 to 28-5-2008
24. Smt. A. Prasanna, B. Sc., LL. M., Ph. D
4-6-2008 to 31-12-2008
25. Smt. K. Padmaja, B. A., L. L. M
(Selection Grade Lecturer-in-charge of principal)
1-1-2009 to 30-8-2009
26. Sri P. S. Gopi, B. Sc., LL. M
31-8-2009 to 31-3-2011
27. Sri V. T. Ahamed Iqbal, B.Sc., LL.M
(Associate Professor-in-charge of principal)
1-4-2011 to 21-8-2011
28. Smt. Lovely Paulose, LL.M, Ph.D
22-8-2011 to 11-4-2014
29. Sri Biju R. K, B.Sc., LL.M
(Assistant Professor in charge of principal)
12-4-2014 to 22-5-2014
30. Sri. Reghunathan K. R., LL.M
23-5-2014 to 1-4-2015
31. Sri. Kumaran Chalappurath Veettil, LL.M
(Asistant Professor, in charge of principal)
2-4-2015 to 10-6-2015
32. Sri. Jawahar K.T, LL.M. NET
11-6-2015 to 30-3-2017
33. Smt. Bindu. M. Nambiar, LLM., Ph.D
31-3-2017 to 3-9-2019
34. Sri. C. Thilakanandan LL.M, Ph.D
4-9-2019 to 30-3-2019
35. Sri. V. R. Jayadevan LL.M., Ph.D
16-4-2019 – 30.06.2020
36. Sri. Kumaran Chalappurath Veettil, LL.M
(Assistant Professor, in charge of principal)
30.06.2020 -16.09.2020
37. Dr B Premalatha LL.M.
16.09.2020 – 20.09.2020
39. Sri. Kumaran Chalappurath Veettil, LL.M
(Assistant Professor, in charge of principal)
20.09.2020 – 31.05.2022
40.Dr. N. Krishnakumar
(Associate Professor, in charge of principal)
01.06.2022 onwards